ISO 45001 - Occupational Health & Safety Management System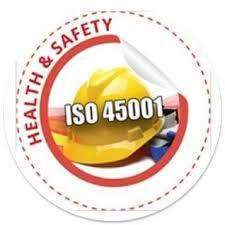 ISO 45001 - Occupational Health & Safety Management System
ISO 45001 is an internationally acclaimed parameter of quality which is regarded as an essential part of Occupational Health and Safety Management System. This standard is implemented in order to ensure the safety of human health and to safeguard the workers of an establishment. The certificate of ISO 45001 proves the obligation of a company to ensure safety of workers and other personnel within workplace. The norms specified under this health and safety management system aims to minimize the possibility of hazardous situations, to avoid harmful incidents that may affect human health or can cause wastage of production time or can damage machines and may have negative impact on work environment.

Organizations develop their health safety and environment policies and goals as per the outlines provided by ISO 45001 Standard. The success of the execution of these policies, their effectiveness in avoiding risk and hazardous condition in workplaces to ensure the safety of workers are measured on the basis of this standard. The ISO 45001 Standard can be applied separately or by combining with other existing management procedures.

Why is certification good for my business?

This certification helps to upgrade the existing EHS - Occupational Health and Safety management system.
It helps an organization to observe all the necessary legal needs of EHS.
This certificate guarantees about the success of an organization in providing safe working environment to its workers.
It minimizes hazardous conditions at workplace and lowers the possibility of injuries or other harms.
It enables an organization to build its distinctive corporate image and assists in achieving trust of customers.
This certificate denotes the success and growth of an enterprise.
FLOWCERT INDIA PVT. LTD.
Plot No. : 5d/8e, Second Floor, N.I.T No. : 5, Railway Road, Faridabad - 121001, Haryana, India
Mr. Vikash Sharma (Director)
Mobile :+919212027518

Accepts only Domestic inquiries
Send Inquiry